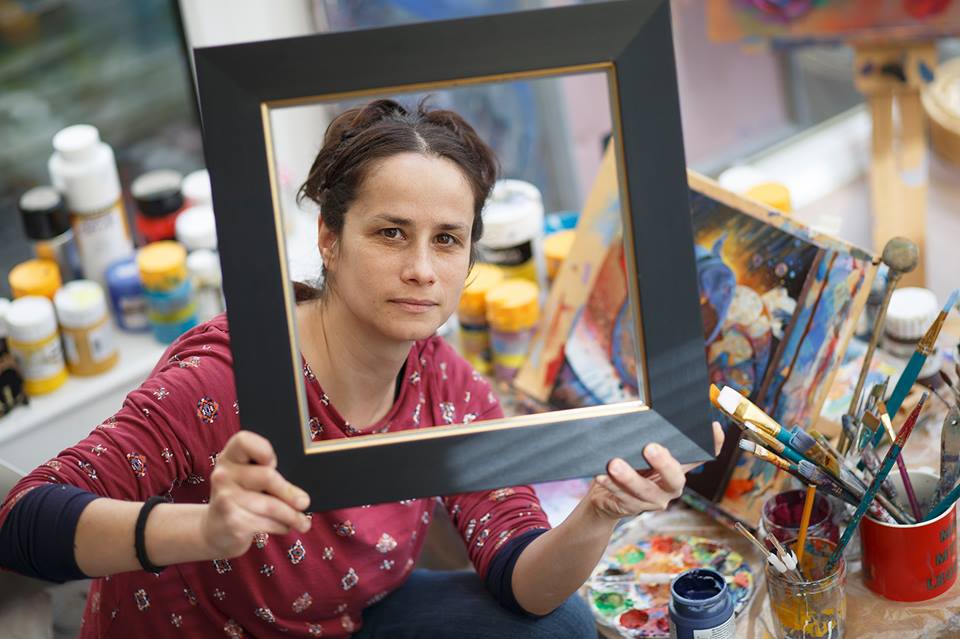 Biography
Diana Savova, email: diana.savova@hotmail.co.uk
(b. 1978 Chepelare, Bulgaria) lives and works in Edinburgh since 2011. She has been pursuing her professional artistic practice ranging from painting and fine art conservation, art tutoring to large-scale murals and book illustrations for over 20 years now.
In 2022 Diana get involved in Adult Education Program, Edinburgh Council as an art tutor. Exploring watercolor technique, using a lot of life demonstrations and videos are part of her classes. Diana believes that Art is for anyone who has interest. There shouldn't be any barriers and fears to get involved in painting. 
In February 2020, Diana received a Visual Artist and Craft Maker Award through Creative Scotland and the City of Edinburgh Council towards the curatorial mentorship of Iliyana Nedkova as part of Diana's second major solo exhibition in Scotland at the Scottish Storytelling Centre, Edinburgh. Initially scheduled as part of Edinburgh International Fringe Festival in August 2020, this second solo show was rescheduled due to the COVID-19 pandemic lockdown for August 2021. With the provisional title Thistles, Sunflowers and Dreamscapes this new exhibition follows Colours 1-30 July 2016 at North Edinburgh Arts – Diana's first solo show in Scotland.                                                                                                                           Painting has been Diana's passion and her medium of choice ever since 1995 when she has started exhibiting in solo and group exhibitions across Bulgaria and since 2011 across Scotland and Europe with over 30 shows to date. Diana holds a MA Degree in Fine Art Conservation and Restoration awarded by the National Academy of Art and Design, Sofia in 2003.
Her works and commissions are part of private collections across the world. Her public art commissions include murals and frescos in Istanbul and Pamporovo, as well as illustrations of a children's book commissioned by Zhar Publishing House, Sofia.
Diana was the Senior Conservator at the Regional Museum of History, Smolyan and most recently the Volunteer Conservator at St Cecilia's Hall Music Museum, Edinburgh while undertaking a Pathway Accreditation at ICON (International Institute of Conservation).
Additionally, she has a wealth of experience as Set Designer and Scenic Painter for international film and TV series productions at Bulgarian National Television and Film Studios including the BBC production  Roman Mysteries.
"Light, colour and magic realism is where I often draw inspiration for my current painting and drawing projects employing watercolour, ink, oil and acrylic. I focus on landscapes, cityscapes and dreamscapes as I feel compelled to mix reality and fantasy in compositions which juxtapose uncommon imagery as if in a dream. This new lineage of works with surreal motifs now seem to strongly resonate with the strange surrealism of the novel Coronavirus pandemic.
Recently, I also discovered the rarely practiced acrylic pouring technique and have been exploring it since. Combining accidental pouring with hyper-realistic surreal details in both acrylic and oil paints has come to define my current practice.
Currently, I am working on paintings which revolve around the idea of retelling classic fairy tales through magic realism. I revisit some of the classic fairy tales I grew up with in the South of Europe and try to contrast them with the stories my young child is now growing up in the North of Europe. With the provisional title Contemporary Fairy-Tale Magic, this new body of paintings looks at the impact of fairy tales on our shared European contemporary cultures with special emphasis on how we can re-imagine the global climate, ecological and health emergencies for new audiences."
Education
1997 – 2003: National Academy of Arts, Sofia, Bulgaria
Master Degree in Restoration and Conservation of Fine Arts.
Exhibitions:
Solo Exhibitions
2020/21 Thistles, Sunflowers and Dreamscapes, Scottish Storytelling Centre, Edinburgh
2016 July Colours, North Edinburgh Arts, Edinburgh
2009 September Memories, Town Hall, Chepelare
2009 August Memories, Culture Club Gallery, Smolyan
2009 July Memories, Plastelin Studio Gallery, Sofia
2008 Impressions, Blue Margarita Gallery, Sofia
Group Exhibitions
2020 New Works as part of Colony of Artists Festival, Edinburgh
2020 UIG Open 2020 Re-imagined, Hulabhalg Gallery, Timsgarry, Isle of Lewis
2020 Torrance Gallery, Edinburgh
2019 Macmillan Art Show, Bonhams, Edinburgh
2019 Recent Works as part of Colony of Artists Festival, Edinburgh
2019 Human Condition, Art Gallery 37, Turin
2019 Dundas Street Gallery, Edinburgh
2018 E.D.S Gallery, Edinburgh
2018 All Can be Frida, Espacio Gallery, London
2018 Macmillan Art Show, Bonhams, Edinburgh
2018 Dancing Light Gallery, West Linton
2018 Threads, Dundas Street Gallery, Edinburgh
2017 Macmillan Art Show, Bonhams, Edinburgh
2016 Macmillan Art Show, Bonhams, Edinburgh
2016 Capture Scotland, Morningside Church, Edinburgh
2014 Three Person Exhibition, Hangar Gallery, North Berwick
2014 Christmas, Scottish Arts Club, Edinburgh
2013 Christmas, Scottish Arts Club, Edinburgh
2011 Annual Exhibition, Culture Club Gallery, Smolyan
2010 Pleven Biennial, Iliya Beshkov Regional Art Gallery, Pleven
2010 Culture Club Gallery, Smolyan
2008 Culture Club Gallery, Smolyan
2007 Smolyan Regional Art Gallery, Smolyan
1999 The Savovs, Fest Invest Hall, Sofia
1995 The Savovs, Town Hall, Chepelare and touring to Smolyan and Tryavna
Public Art Commissions
2008 Camondo House murals, Istanbul
2005 Last Judgment Frescos, Our Lady of the Assumption Church, Pamporovo
Publications
2019 The Edinburgh Art Book. The City Through the Eyes of its Artists. Edited by Emma Bennett. Published by UIT Cambridge Ltd, Edinburgh
2004 Donkey Muk. Illustrations of a children's book. Published by Zhar Publishing House, Sofia
Positions
2019 Volunteer Conservator, St Cecilia's Hall Music Museum, Edinburgh
2017-18 Life Drawing Tutor, Hens with Pens, UK
2010-11 Senior Conservator, Regional Museum of History, Smolyan
2007-11 Set Decorator, Nu Boyana Film Studios at Art Department of, Sofia. Films include The Expendables 2 (USA), Conan Barbarian The Code (USA), Roman Mysteries (BBC)
2006-2008 Set Designer and Draftsman for Magna Aura (13 TV series, Bulgarian National Television and Saxonia Media)
2006 Production Designer Assistant for Lyudmil and Ruslana (TV series, Bulgarian National Television)
2002-05 Wardrobe Department Assistant, Bulgarian National Television. Programmes include Rascals (Palavnici); Rosy Pelican Reserve Legend of the White Boar, and Icy Dream
2001 Art Director Assistant, Bulgarian National Television. Series of live reports
Professional Membership
2020 present Spilt Milk (International social enterprise making motherhoods visible)
2015 present Scottish Society of Artist